Consulting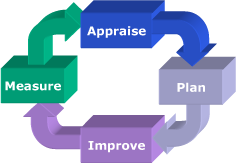 Our consulting services are based on our extensive experience in helping organizations solve critical problems and implement effective changes. Each engagement is structured to ensure that our client's unique needs and requirements are addressed.
Complemented by our appraisal and training services, we offer consulting services for all stages of process improvement:
Successful process improvement requires a well-thought-out plan that takes into account both deficiencies in the current process and the evolving needs of the organization.  Our unique workshop-based strategic planning methodology helps process groups make the right choices.
We now offer SCRAM (Schedule Compliance Risk Assessment Methodology) services to assess the risks in the ability to meet significant project schedule dates and milestones.  SCRAM was developed by a joint US–Australian team of experts who have had considerable success in assessing the probability of meeting key dates.
Measurement is an essential element of process management. Our measurement consulting services will help you establish effective measurement programs that address your organization's information needs and are consistent with the maturity of your organization's processes.
Advice & Guidance
Organizations with strong and effective process improvement programs invest in training and take advantage of external expertise when necessary. Our consultants provide ongoing guidance and support for process improvement – from answering questions about CMMI practices to advising process groups and managers to reviewing process designs. In many cases support can be provided via email, telephone, or web meetings.
Special Projects
We are available to conduct studies or one-of-a-kind efforts to help you address unique issues or needs. Our strengths in process improvement, strategic planning, software engineering management, and measurement allow us to address a wide variety of areas.